Green Blood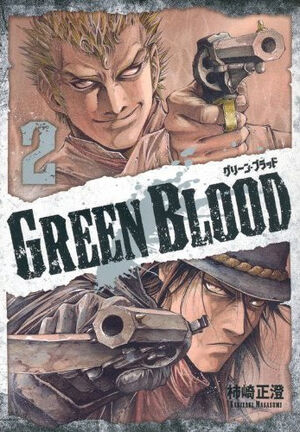 Information
Title:
Green Blood (グリーン・ブラッド, Gurīn Buraddo)
Author:
KAKIZAKI Masasumi
Original Run:
June 13, 2011 – May 13, 2013
Published by:
Young Magazine (Kodansha)
Volumes:
5 (49 Chapters)
Genre:
Action / Historical / Seinen
Green Blood
(グリーン・ブラッド, Gurīn Buraddo) is a Japanese manga series written and illustrated by
KAKIZAKI Masasumi
.
Green Blood has been running in Kodansha's weekly Young Magazine since June 13, 2011. After around the 12th chapter, the manga started to become absent almost every two weeks. After Issue 10-2012 it went on hiatus for few weeks and returned in Issue 24-2012. Another longer hiatus occurred after Issue 38-2012 and returned in Issue 49-2012. Next longer hiatus occurred after Issue 01-2013 and returned for Issue 06-2013 and 07-2013 and then again went on hiatus until Issue 17-2013. The manga ended with Chapter 49 on May 13 in Issue 24-2013 and the final 5th volume was released on July 5, 2013.
The end of the civil war signalled the start of the industrial revolution in the United States and immigrants from all over the world travelled to find their American dream. But what awaited the majority of them was poverty, discrimination, and hopelessness. Manhattan, New York was full of immigrants flooding through the ports and the 6th district, Five Points, was considered at the time, the world's worst slum. The mobsters corrupted the entire area, including the police by paying them off; Five Points was the mob's territory and they were the law.
But even Five Points, where there seemed to be nothing but robbery, prostitution, and murder, showed some signs of hope. Luke Burns was an honest and righteous teenager who realized that the mob was the cause of their harsh lifestyle and that joining the mobsters would not bring him the American dream. But his older brother, Brad Burns, had become an assassin for the biggest mob group of Five Points, the Grave Diggers, a secret he kept from Luke for his own protection. Brad was known as the Grim Reaper and his reputation preceded him as a ruthless and skilled killer.
Manga Guide
Edit
#
Release date
Volume
1
November 4, 2011
Volume 1
Pages: 200

Cover Characters:

List of Chapters:
Synopsis:

Mid 19th century, the United States of America. New York City, the Five Points. A district rife with gang wars, this place was called "the worst slum in the world". This is the drama of two young men who grew up in the Five Points: one, a gangster hitman; the other, a boy who hates the gangs.

2
February 6, 2012
Volume 2
Pages: 192

Cover Characters:

List of chapters:
Synopsis:

His fee: ten dollars for one man. In Mid-19th-century New York City, gangster hitman Brad Burns receives the order to protect his boss's son, Kip McDowell. But Brad can no longer tolerate Kip's cold-hearted barbarity. He ignores his orders and tries to kill Kip, setting in motion a deadly conflict that will shake the streets of New York.

3
June 6, 2012
Volume 3
Pages: 208

Cover Characters:

List of Chapters
4
January 4, 2013
Volume 4
Pages: 208

Cover Characters:

List of Chapters
5
July 5, 2013
Volume 5
Pages: 208

Cover Characters:

List of Chapters
Community content is available under
CC-BY-SA
unless otherwise noted.